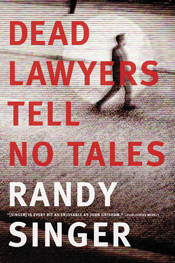 Dead Lawyers Tell No Tales by Randy Singer
Spending time in prison for a point shaving scheme, Landon Reed comes out of jail with a faithful wife by his side, Kerri. Soon after this, Landon quickly hits the books training to be a lawyer in near Washington D.C. in Virginia. Randy's new book, Dead Lawyers Tell No Tales is a riveting tale full of surprise with an occasional twist in plot detail. The story speeds up as Landon is hired on as a lawyer with Harry McNaughten, one of the founders of McNaughten and Clay. Unbeknownst to Landon, Harry has been on the seat of many of controversial and most difficult court cases. Rather than shove Landon in a cubicle and wait for his turn to rise through the ranks of lawyers, Harry immediately puts Landon front and center of a case that smells of insider trading and murder.
One of the reasons I thought this book was so good was its attention to developing Landon's character through the internal and external struggles he faces. We are told in the book about Landon's conversion to faith in Christ and how this has transformed his entire life. Yet, at the hand, we are also told of how Landon wades through the murky waters of being a lawyer on a firm with an attractive woman at the firm. After finding some doctored photos sent to her in the mail of Landon and Rachel, Kerri, Landon's wife, explodes into a fury of rage because she suspects that Landon is cheating on her. Even in the middle of this situation, Landon realizes that walking the line as a lawyer and a husband is not as easy as it seems. Rather than back away from Kerri, Landon pursues her even in the midst of his overburdened schedule. Secondly, from the beginning Landon is quick to think about the moral implications of his work. Not feeling the urge to get a set of fingerprints in a backhanded way, Landon comes to Harry with his internal dilemma.
The book was also an exercise in the characters trying to find the truth amidst a myriad of lies. From the beginning, we find out that Kerri connects with a member of a high profile organization named Sean Phoenix. He is the leader of a company designed to do the dirty work that the government doesn't want to deal with. We find out later that Sean is known as keeping a straight face and posture throughout questioning all the while spewing lies about his company and their dealings. If it can be said that someone has learned the art and science of lying, Sean's character draws this theme out. Furthermore, the book also pushes the reader to beg the validity of a character's position and actions at almost every point in the book, while remaining glued in on the main task of Landon.
I highly recommend this book for anyone who loves a good lawyer novel. With enough action and intense movement, this book is especially good at keeping your attention from start to finish. I found the ending to be a bit unexpected, but the book overall was very good indeed.
Thanks to Tyndale Publishers for the complimentary copy of this book in exchange for review.